Most likely, you're reading this because you want to become a better mandolin player.
Which of the following statements applies to you?
✘ You want to add fresh repertoire to your playing, more Bluegrass Tunes, Celtic Traditional and Nordic Folk.

✘ You're are curious about jazz mandolin, but don't know the first steps to learning it.
✘ You're an absolute beginner and want to learn mandolin, where do you start?
✘ You know that consistent practice is the key to improvement but you don't know what you should practice in order to move forward on your mandolin journey.

✘ You've played a bunch of jazz tunes but would like to take your comping and soloing to the next level.
Video Lessons That Help You
 Play the Mandolin Well
✔ Master essential techniques
and skillsets
✔

Play Folk, Bluegrass, Jazz, Classical and Beyond

✔

Perfect For Beginner and Intermediate Players
Join The Mandolin Secrets Academy
Play the Mandolin Well and Experience the Joy of Making Music with Others!
Limited Time Offer!
GET STARTED TODAY
ENROLL NOW
Master the essential techniques and the fundamental skills, so you can play all styles of music.

Build the confidence to participate in jam sessions, ensemble playing and interacting with the generous, mandolin community.

Learn from an experienced teacher and quickly see results with a clear path to your goals.

Experience the true joy that comes from making music by playing mandolin!

Have a practice routine that gets you results, without feeling overwhelm and frustration.

Connect with like-minded mandolin enthusiasts from all over the world.
Here Is What Students Have To Say:
"The Academy really has made me a better mandolin player already, so I can already recommend it"
Martin Hietkamp - Netherlands
"Here is a real player! I really enjoy his methodology, versatility, and thorough explanations of techniques and concepts."
Gina Merlini - USA
"The instructional videos are clear and easy to follow giving you the chance to develop important techniques... really please I got involved."
Ian Harvey - UK
What You're Getting Inside
The Mandolin Secrets Academy:
Mandolin Foundation
This video course gives you a rock-solid foundation and makes sure you're equipped with all the essential basics.
Jazz Comping Guide
A complete Step-By-Step Course all about chords, rhythm and comping.
The 10 Minute Challenge
A collection of bite size lessons to build your toolbox! In 10 minutes, a day...
Q & A Calls
The monthly, Live-Hangout where Magnus answers all your questions. 
Community
Through the community you'll get the support you need with the input from professional instructors as soon a s you are hitting a roadblock.
YouTube Bonuses
Mandolin Secrets Academy is the premium service of our YouTube channel with more than 1,200,000 views

Repertoire
The Repertoire is a consistently growing library of songs and tunes. Explore and learn a variety of music!
Tiny Moore Licks
This is a section from swing mandolin master, Hayes Griffin.
AND Here's More Mandolin Craft Training
Live Workshops, Replays, Mini Courses and More!
Take A Quick Peak Inside the Members Area of Mandolin Secrets Academy! 👇
... And There Are BONUSES!!
Mandolin Crosspicking
($297 value)
Spice up your melody and rhythm playing by using the crosspicking technique!
Jazz Soloing Guide
($297 value)
A complete Step-By-Step Course all about melody playing, improvisation and soloing.
Memorizing music
($97 value)
Video Course - Learn my 3 secret techniques for memorizing music. We go through J.S. Bach, Goldberg Variations no.1.
Nordic Folk Mandolin - 10 Traditional Tunes
Get in to the exciting styles and sounds of Nordic Folk Music
10 Jazz Mandolin Licks and Techniques
Play specifique licks and techniques used by jazz musicians.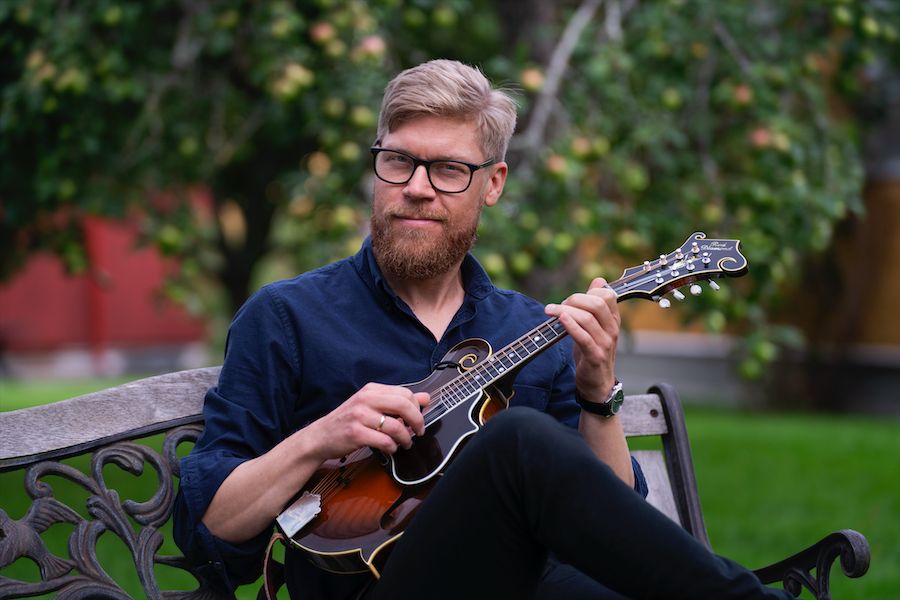 Hi, it's Magnus!


I'm one of the few professional online mandolin teachers on the internet, and I'm here to help you take your mandolin playing to the next level.
I've been playing this lovely instrument for over twenty years, and it's my biggest passion in life. I'm all about equipping you with the tricks, tools, and techniques to play your favorite tunes with confidence and joy.
Get Instant Access to the Academy!
If you're ready to take your mandolin playing to the next level by enrolling to Mandolin Secrets Academy simply choose your payment option below and click the button to join us.
Your Investment is Fully Backed by Our 100% Satisfaction GUARANTEE!
When you join Mandolin Secrets Academy you are fully protected by our 100 % Satisfaction Guarantee.
We're confident that our content is valuable for all players, but if for any reason you don't feel that you've received value or if you're not satisfied with the quality of the content within your first 30 days, simply email your request to [email protected] and we'll send you a prompt refund.
No Questions Asked!
- Magnus Zetterlund
How It Works
Get started in three easy steps
Step 1. Join The Academy Today
Step 2. Implement What You Learn With Magnus Helps
Step 3. Master The Mandolin & Impress Your Friends
Q: What is Mandolin Secrets Academy?
Q: Who is Mandolin Secrets Academy for?
Q: What happens when I enroll in the Academy?
Q: How long do I have to access the program? Does it expire?
Q: Can I download the videos?
Q: Can I use my iPad, iPhone/Android, mobile device or tablet?
Q: Are the classes and lessons live?
Q: Do you ship anything to me?
Q: I've never played mandolin before, is this course a good place to start?
Q: Is the content too basic for me?
Q: Will the Price increase over time?
Q: Is there a contract or minimum commitment?
"I have been a member of mandolin secrets for the last three months and I have learned a lot. The new techniques I have learned have made a huge difference. The exercises are excellent in improving your playing. And I like that I can pick away at what I want to learn at my own pace. I am very happy with the mandolin secrets courses and highly recommend them to anyone that really wants to learn or improve their mandolin playing."
Craig Muir - Nova Scotia, Canada
"It has been said that learning a new instrument is healthy for the older brains. My son purchased a mandolin for me years ago and finally I've found a way to learn how to play. Magnus and Hayes give great clear instruction, are easily accessible through emails and zoom calls, and make sessions fun! "
Marianne Norris - USA
"Getting  lessons from a proper Mandolinist where I live has been a challenge and I have had to travel quite a bit to fulfill this. My desire to improve my playing has definitely increased since joining and the exercises that Magnus produces there's always something to work on, not to mention the ever growing library of repertoire from a variety of music genres. Finally I must say, the live QA catch ups via Zoom are great.  "
Bunmi Ajayi - UK
The Instruction You Need; The Music You Love to Play!
Master The Mandolin & Be A Music Maker
JOIN TODAY